The Promise of Free Food Leads to a Career Serving Others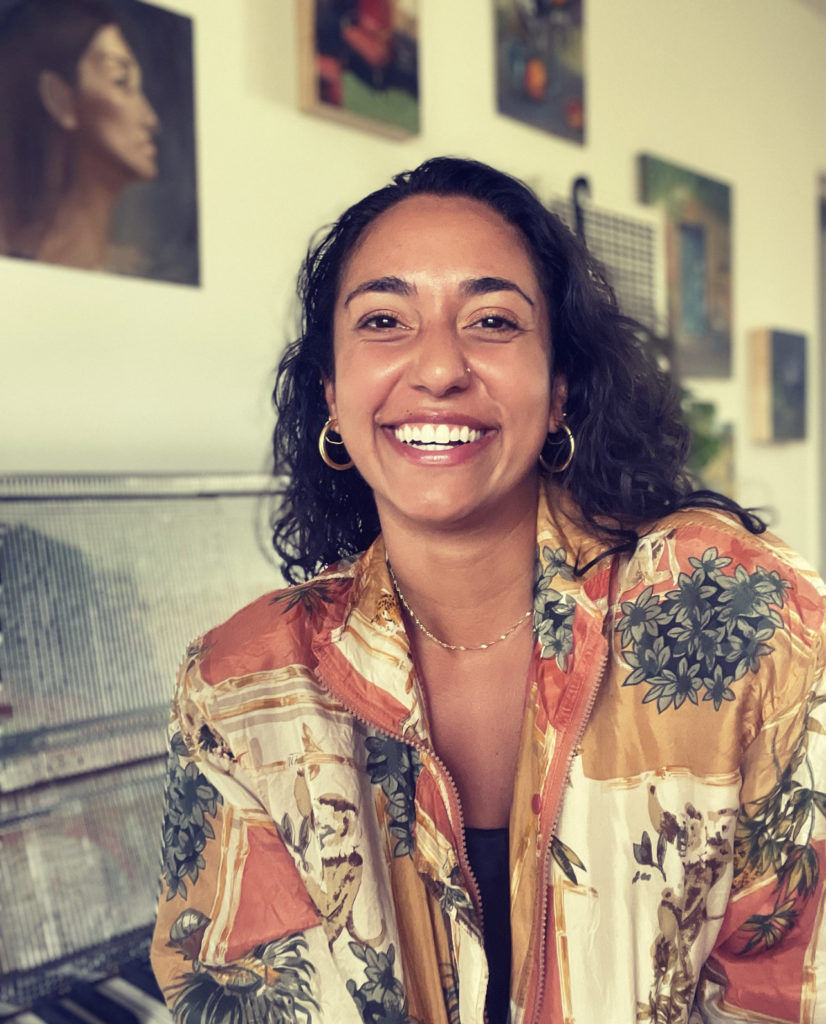 A chance encounter, a spark of interest, an awakening of purpose, and a growing experience of mutual trust and growth set Tara Ghassemikia on a pathway she never even knew could exist. Let's hear her describe how her years at Camber influenced the way she helps drive positive impact today at the nexus of community health and emergency responsiveness.
Our Director of Impact and Equity, Rozella Kennedy, sat down with Tara to learn about her path. (This interview has been edited for clarity and length.)
Rozella Kennedy/Camber Collective:
Tara, you told me that your first encounter with Camber was a revelation. You were in business school studying finance, but you didn't seek to work for a bank or accounting firm, but to rather to enter nonprofit management. So how did you find your way to consulting, and Camber?
Tara Ghassemikia:
I actually found out about Camber when I was 20 — there was an info session that popped up after my class, and when I think "info session," I think "free food," so I just stayed back. And then I learned about Camber and I got excited – maybe a little too eager looking back – and I ran up to the presenter asking, "do you have any internship opportunities?"
And they were like "talk to us in two years." So, a couple of years passed by, and there was a job fair where I was walking around and randomly saw someone from Camber—the same person from the info session! In my gut I knew this would be a dream job for me. I loved consulting and working on teams, but I wanted to do something that was socially focused.
Camber was a big part of my growing up experience. I came in being passionate about social impact, but I didn't quite have my head wrapped around what that could mean. I think I worked on about two dozen projects throughout my time, and it slowly opened up my world.
RK:
It sounds like that variety was quite formative for you, just coming into the workplace and the social impact sector. Did you travel as well?
TG:
I traveled a lot; my family even had a tough time keeping up with where I was in the world. I was really lucky that one of my managers, Sakina Zaidi, put so much trust and confidence in me to travel for our projects. I went to Bangladesh, I was in India, Ethiopia, getting to do a lot of maternal health work and work closely with grantees. I got to work with the Gates Foundation, Pathfinder International, the World Bank, UNFPA. I was in the family planning portfolio, and when I got on my first family planning project, it was like, "OK, this is this is where Tara is needed." I learned all about segmentation —I was very deep in that world. We were creating profiles of different women's experiences and doing the storytelling and actually getting to be on the ground. It was a really immersive experience, one I felt pretty lucky to get to do at a young age.
RK:
Which office were you working out of?
TG:
Actually, I got to go through all the offices. I started in the Seattle office. Then with the family planning work, I eventually moved down to San Francisco, where a lot of that work was happening. I was the second person in that office next to Hope Neighbor (co-founder of Hope Consulting, which merged with Camber in 2015).
Eventually, Jessica Vandermark (a Camber Partner, based in the Paris office) got me over to France. I can't even explain how amazing that chapter was. All in all, I was with Camber for almost four years.
RK:
That's a pretty good run for a first job out of college! You did mention that the challenges of the power dynamics in traditional philanthropy and aid enticed you to think differently about your next career phase.
Growing Into Deeper Awareness of Purpose
TG:
Over time, I realized that I wanted to be working with people face to face, locally. I struggled with the power dynamics and structures in global philanthropy… seeing how it was hard for people to have their voices heard and for the projects to go in the direction that they needed.
RK:
Yes, we've seen a lot of shifting in the norms and conventions around philanthropy and equity. There is still a lot of change that is needed, to ensure that we are bringing people to the table and letting them have true agency at that table. And it's challenging to balance what "we" in the Global North are aiming for in terms of social impact outcomes and what communities might actually want or need based on their lived experience. It's a very dynamic and important conversation and evolution.
I hope if you're watching the sector now anecdotally, you're seeing more shifting to localized power, with regional offices led by in-country experts and not entirely Westerners, as had long been the case.
TG:
Like you said, there's been a lot of resistance to make that change to localized power. I really respect the individuals at Camber who pushed conversations around localized power, even when there was a lot of resistance. I look at mentors like Ben Jenson, who led my first project, and Clint Novahec, one of the co-founders. They were introducing these difficult conversations, and I got to see what a good facilitator looked like. That's the best experience you can have as your first job: to have people model what it's like to facilitate difficult, uncomfortable, but necessary conversations. And that's what I do in my job now. I facilitate difficult conversations and try and bring people on the same page for a vision.
We all want to get to a solution, and we all want things to change, but I've realized more and more that you have to take that pause to ask, "are we even going the same direction? Are we even going towards the same next milepost before we go on this hike up Rainier?" Because if not, your team is going to get lost on the mountain, scattered in different directions.
Inserting Camber Values into New Areas of Impact
RK:
Systemic change is messy, and it takes a long time, but we all keep working towards it. And now you are doing something entirely new; what's similar and what's different?
TG:
After I left Camber, I joined the Harvard Kennedy School Government Performance Lab as a Fellow starting up a new project. We were trying to figure out how to have fewer families enter the child welfare system.
My project was based in Olympia. I grew up in Washington, so getting to work in my own community was really energizing for me. I suddenly went from flying to the other side of the world to going places that I used to play high school soccer games. It was a whole new way to feel connected to my own community.
It was similar to Camber's work: people coming in with ambiguous challenges and sitting in a room of folx who weren't on the same page about the path forward. My role was to be a weaver; to bridge all these different systems and people… to say, "OK, let's try and find a game plan together." I would listen to everyone, summarize what I heard, looked at what was working in other places… and then show them a first draft and say, "I know this is probably more wrong than right, but what do you think?" It can be uncomfortable making a bad first draft, but I feel like that's how the magic starts. You just do your best to put that funny ego in your brain aside and build from there, you know?
People with the most empathy and personal connection to the work were my favorite coaches for creating better drafts. At one point, an agency leader connected me to Parents 4 Parents – a local organization that gives peer support to families in the dependency court system. These were the people that really knew what a person's journey would be like in this pilot and we probably would've made something so unrelatable and less supportive without them.
RK:
That's equity in action. I love it.
The Essentialism of Listening and Building Trust
TG:
One of managers gave me my new favorite saying: "Projects and business move at the speed of trust." I look back on times where I would try and rush a new relationship, for example with a tribe that I or my team had never worked with. It always ended up being performative and transactional when it was pushed through too fast.
I spent almost a year planning our first pilot with a local tribe and I learned to shift my mentality and say "I'm just gonna listen for a year." And when the next fellow came on, I passed it off to her, recommending it as a priority for her to launch.
RK:
That's what building a legacy of impact looks like, Tara. That's so great.
TG:
What helped the most was pausing: saying, "I don't know everything. I may not even know a lot… I'm gonna just spend a lot of time listening and building real relationships and making sure that such-and-such person actually wants to be involved — because sometimes we want to pitch the solution, and it's rushed. If you want someone's participation in the co-design, you can't force it.
RK:
Yes, and in full transparency, that's where the business model of consultancy firms gets challenged, because we can't always avail that breadth of time sometimes. But yet, as a firm we are deeply interested in how we can find that balance, getting closer to that middle. To be honest with you, I think that honesty and transparency is part of what a firm like Camber can bring into the work and eventually, hopefully, even shift the consulting sector, somewhat.
Inserting Camber Values into Community Health and First-Response
RK:
So, what are you doing now?
TG:
I work with first responders! Basically, on changing how our 911 system works.
I've been passionate about this since I was 15 when I started being a Crisis Connections volunteer, an alternative phone line. If someone's in a crisis and you don't want to call 911, this is what you call. From a young age I saw how a lot of people didn't have somewhere to turn, or if there were resources available, there were usually a lot of blockers. Maybe there wasn't an opening at the shelter. Maybe they'd have to go through all this bureaucracy. It was just a mess. So, for me, I always wanted to work in this space.
And it's funny, a lot of my mentors at Camber always had to hear me talking about mental health and behavioral health and how I wanted to be in the space. And yeah, now I've spent the last year working with a fairly new team based in fire departments in South King County called CARES. It's exciting because for the first time, we're going to have a mobile team of nurses and mental health professionals who can actually go to the scene and meet someone and be… the professional we've been looking for in a lot of crises that we just haven't had there.
RK:
That's incredible, Tara! Wow, you know Clint (Camber co-founder and her former mentor) is a first responder now, a firefighter…
TG:
I do! I remember how inspired he was to make the change, and I can see why. Something I love about fire culture is the trust that they build among themselves. Everyone looks out for each other like family – because when they're in their rig and go to the (fire) scene, they really need to trust the person next to them. I really love how they cook for each other and share meals together. The first thing anyone did when they met me was take me to grab a coffee or have a meal. "I wanna know your story. I wanna get to know you."
RK:
Your life is in their hands. Communal trust, you could have seen it in one of the villages you worked for in Ethiopia: the matriarch of the village cooks the meal and everyone is in a place of shared humanity.
TG:
And sometimes, to get to that shared humanity, we need to slow down. Despite being in a fast-paced environment, it's about the listening and being compassionate because that's how you authentically care. You know, when you're rushing to get someone on your vision, that's ego. In my last Camber project, we asked why people in philanthropy were not coordinating together. In my favorite interview, someone said "TURGO inertia." And I was like, "what is TURGO inertia?"
He said, "Turf, Ego and Inertia. That's why people don't work together."
RK:
That's good.
TG:
Right? The total antithesis of that is the person who says: "I don't know the answer, but I'm gonna sit down with you and see what your needs are." At the most basic level, it's perhaps how a good clinician or healer approaches it… with compassion and active listening. Looking to see what that person says instead of that natural human tendency that, unfortunately, a lot of us have where I'm not really listening because I'm trying to plan what I'm going to say as you're talking, so that your square peg can go on my round hole.
RK:
Or interpreting what I hear or even think I hear based on what I want. Even though you are no longer at Camber, I want you to know that it has continued to grow as a firm that speaks to those values.
This is not really a "yes/no" question. Do you feel a sense of pride looking at Camber today and saying "wow, I helped make it be more like that". Because everyone who comes through contributes to the story.
TG:
I'd start with a little bit of a twist on that. I found some of my greatest mentors at Camber and I still stay in touch with a lot of them. They really cared about me. They spent a lot of time investing in my growth. I think I also had the space to use my voice at a very young age.
I remember my first year at Camber, leadership put out a bunch of potential priorities and one of them was talking about diversity and inclusion, and I said DEI was something important to me. And Clint (one of the founding partners) would just go on walks with me. I was 22 years old, and he was this brilliant, very busy partner. And he said, "I have time for this," and he would just listen and ask me questions.
Honestly, that's a big part of the legacy I feel proud of. And I'm really grateful for the people at Camber who cared about my voice and continued bringing me into rooms with partners to help facilitate those conversations. There was a growing openness.
RK:
That's such an inspiring story. And even though it takes time to "change the world," it must feel encouraging to feel like you are on the right track and your being here, doing it, matters.
TG:
Yes exactly. It can be frustrating to, you know, not see the change come as quickly as you want, but I look back and it is wild to me to think my 22-year-old self was brought into those rooms and asked to facilitate meetings with all these people who had 20-plus more years of experience. That's something I'm really proud of — starting that journey.
RK:
And Clint had a calling to go into a different form of service, and now he's a firefighter —
TG:
Yeah, we both ended up in the same world!
RK:
Last question. What do you do when you're not changing the world?

TG:
I've had a lot of fun plot twists. At heart, I'm a creative. I have a one-woman-show called In Transition that I wrote, direct, and perform in. I'm also a musician – I play the keys and I sing – so I write and compose my own music, and am in the process of laying down an album.
The more I've made space for my art, the more questions I've gotten from people about what I'm doing and where I'm going. Honestly, I don't have a very straightforward answer and I think that's ok. One of my close friends told me "If you could do it all, then why not?" So you're catching me at a special moment in my life where I'm really taking things moment by moment and pushing myself to pursue my dreams. No doubt there will be many more plot twists ahead.
RK:
Creative people are the ones who will save our world. Thank you, Tara, this was absolutely a joy and inspiration to talk with you!