Over 1.9 million Americans are newly diagnosed with cancer each year[i]. For these patients, living with and beyond cancer is more than merely a medical condition, it is an all-encompassing journey that can be overwhelming even for those most well-equipped to navigate it. In this critical moment, patients and caregivers need guidance and support in understanding their diagnosis, establishing their goals of care, making treatment decisions, and managing the associated impacts to their health and livelihood along the way.
A leading National Cancer Institute-designated comprehensive cancer center had developed a unique and best-in-class supportive care program with proven results in navigating the complex journey beyond the mere clinical treatment aspect of cancer care. Based on internal analysis, they found that patients receiving supportive care experienced less time in the ICU, shorter overall hospital lengths of stay, and higher self-reported quality of life than those who did not receive the services[ii].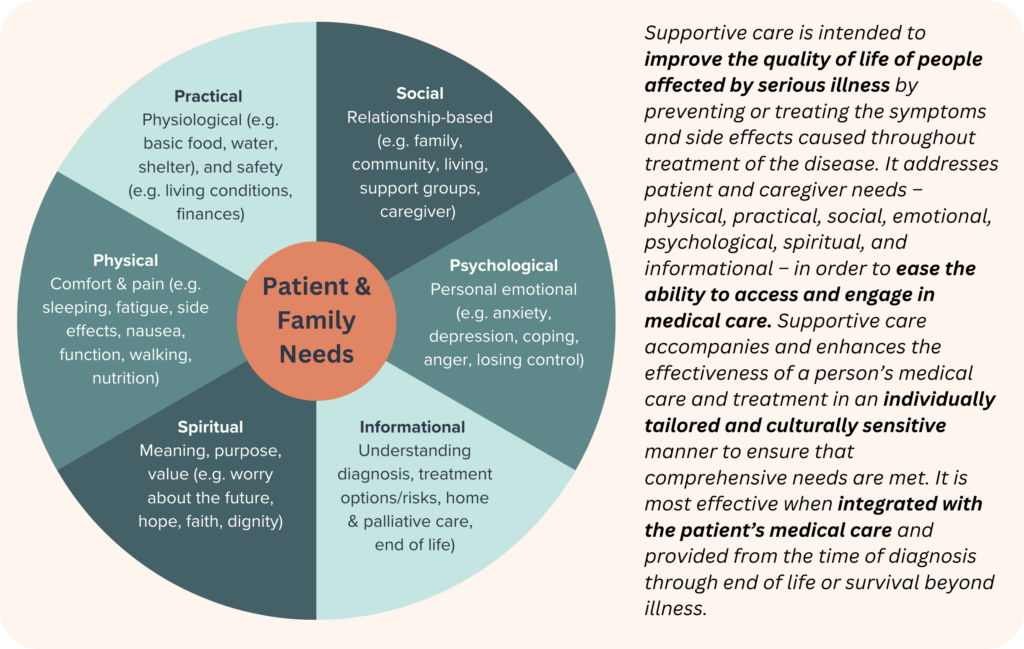 Camber was engaged by this cancer center as they sought to expand access to comprehensive supportive care services across their extended network of clinics and affiliates, including at rural and urban satellite clinics serving diverse and often underserved populations of patients. While serving more patients and caregivers was the goal, equally critical was scaling up the program in a way that preserved the quality of services, patient satisfaction, and equitable access available within the current program offered on their main academic medical center campus. Camber supported leadership in defining the vision, strategy, and plan for scaling up the supportive care program in a way that preserved the integrated and personalized patient experience delivered in-person.
To achieve this vision, Camber helped develop the concept for a novel technology-enabled model of care that blends high-touch with high-tech in order to sustainably serve a diverse range of patient and caregiver needs. In delivering this project, Camber focused on five key client objectives to ensure successful outcomes:
A bold and ambitious vision: Development of a model and strategy intended to be impactful at scale, expanding access to supportive care across the client's network in the near-term, but with potential to help transform cancer care nationally and internationally longer-term. This meant pushing leaders' thinking and preconceived notions on the "art of the possible" to consider pathways and end points they had not originally considered.
Deeply anchored in patient needs: Ensuring that the big vision did not lose sight of the small details that make the current patient-centered model unique and so effective. This meant understanding patient and caregiver needs as well as provider workflows to identify where there were opportunities for efficiencies and economies of scale as well as where customization and human touch is most critical.
Designed to be sustainable: While the vision is expansive and the unmet needs are great, we also had to design within a current reimbursement environment, technology architecture, and business model that often move at an evolutionary pace. This meant "riding the rails" of existing infrastructure where possible, and focusing on "building new rails" in terms of workforce, process, and infrastructure only where most critical.
Designed to evolve: Transformation in healthcare is a process and not an event, and getting a model as complex as supportive care right requires multiple cycles of iteration. This meant defining KPIs and monitoring tools to provide feedback loops to support ongoing refinement and account for lessons learned and changing conditions.
Designed to last: The vision of "supportive care everywhere" championed by the client was to not only develop something that differentiated themselves, but also to do so in a way that could become a blueprint for others' transformation. This meant building in pathways for the "productization" of core elements of the model over time.
The final strategy was approved, and the client received outside philanthropic funding to accelerate development and implementation of the new model. Implementation is ongoing.
---
[i] American Cancer Society, Cancer Facts & Figures 2022.
[ii] Internal client study, not peer reviewed or validated.