A tremendous decade for digital health funding, but to what end?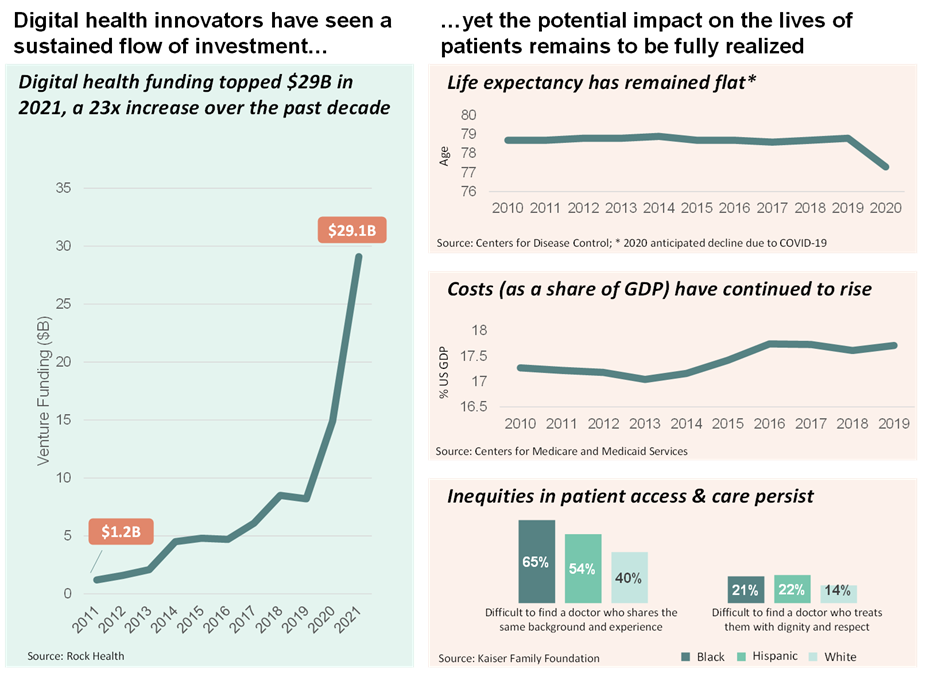 More time is needed to fully understand the impact of the current digital health boom but, as of today, we can only be certain that the past decade has yielded more impressive numbers for investors than it has for patients. This fact is particularly true when looking at access and outcomes for underserved and vulnerable populations. This is not a failure, but it is underperformance, and we should take it as motivational fuel to focus the next decade on realizing the full promise of these groundbreaking innovations.
Over the past two decades, we have been fortunate to work at the intersection between innovative digital health companies and large healthcare enterprises, which include large health systems, national and regional payers, pharma/biotech companies, and large health technology organizations. This intersection is where disruptive ideas and solutions created by entrepreneurs often collide with industry incrementalism guided by seasoned healthcare executives. This intersection is a place where ideas and opportunities collide to drive business growth, but also a place where misunderstanding and friction often takes root and creates antibodies to future partnerships. A recent survey of enterprise executives confirms this sentiment, where more than half of respondents pointed to cultural issues and organizational politics as the primary reason why prior enterprise innovation initiatives failed [1].
Great relationships are not generally born of casual encounters
While numerous enterprise-startup 'matchmaking programs' (e.g., incubators, accelerators, other "open innovation" models) exist in the market today, nearly all focus solely on the 'tip of the spear', namely identifying a match between partners and drafting up pilot partnership terms. Once a match is made, the matchmaker's work is done, and the enterprise business unit and startup are sent off to figure out how to work together and achieve the goals they envision. Unfortunately, the departure of this relationship facilitator occurs at precisely the most vulnerable stage of the partnership process. As startups and enterprises begin the real work of implementing a partnership, differences in goals, expectations, working styles and time horizons often decelerate progress until the partnership flickers and eventually dissolves over time, leaving a negative lasting impression on both sides.
We have had the opportunity to build customized enterprise-startup collaboration initiatives for some of the top healthcare organizations in the US, including large health plans, healthcare providers and publicly traded health IT companies. Pitchspace, in partnership with Camber Collective, was launched out of a recognition that most healthcare enterprises today can expand their growth prospects most effectively not by partnering more frequently, but by partnering more effectively. In supporting this shift, the goal is to not only improve the "win rate" of partnerships for enterprises and startups, but to improve the impact on patients through more effective and rapidly scaled innovations.
The Pitchspace Process – De-risked, Scalable, Replicable:
The most successful enterprise-startup partnerships incorporate a comprehensive and staged process from ideation through integration and scale-up – a hands-on approach to guide the solution through the enterprise environment, adaptation for unique obstacles that present themselves, and the continual management of expectations for both enterprise and startup partners. The Pitchspace process was created to help enterprises make replicable the most successful practices we have seen in de-risking, effectively managing, and scaling up enterprise-startup partnerships.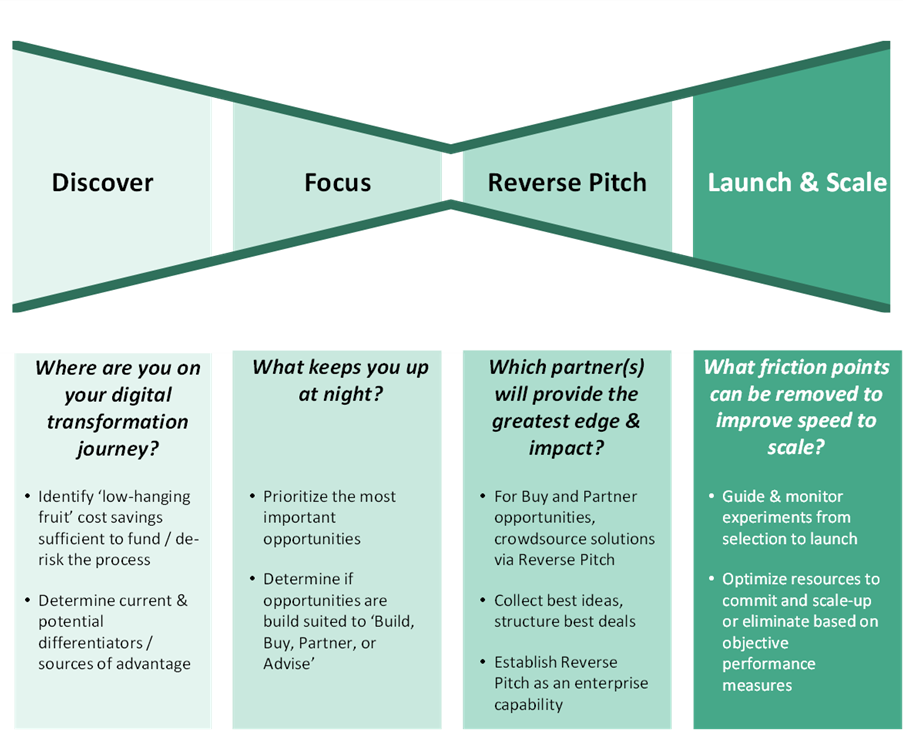 Breaking free from "Groundhog Day" syndrome
The Pitchspace process is intended to be simple and focused, zeroing in on the common points of failure and applying the most proven techniques to overcome the partnership hurdles that tend to present themselves repeatedly. In practice, this draws upon some of the best practices we have observed consistently in successful enterprise-startup partnerships. While each organization is different, and we gain additional knowledge with each new engagement, we have found these several principles to hold true consistently: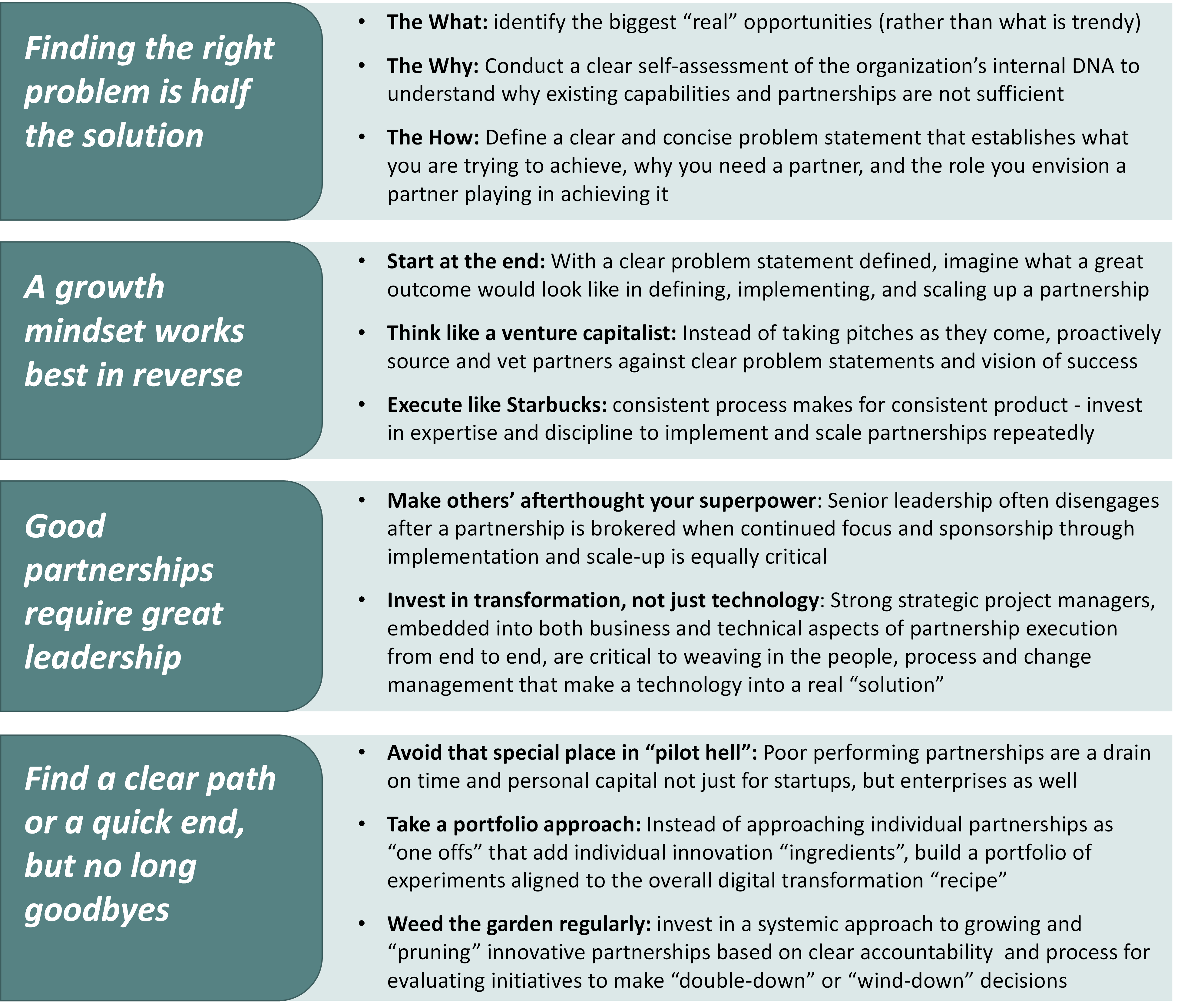 The US healthcare system has many "friction points" that result in higher costs, limited access and uneven quality. Among these, improving the quality and scalability of partnerships between startups and enterprises is highly solvable. More effective partnerships can be a win-win-win, driving meaningful market growth for enterprises, faster scale for startups and better outcomes for patients. Pitchspace is a model dedicated to building stronger partnerships that support bold innovations and growth ambitions that meaningfully improve the lives of patients.
---
[1] "The Biggest Obstacles to Innovation at Large Companies", Harvard Business Review, 2018. https://hbr.org/2018/07/the-biggest-obstacles-to-innovation-in-large-companies